Outside, the sunset carried on as it normally does- special and beautiful. Dusty pinks, spicy oranges, deep whites covered the sky: spectacular. This is the essence of summer. This is what summer looks like. This film of gold colored cloth spread all over the air is what I dream of in the cold of winter. This is what I'm talking about when I say that I love summer. The warmth like a blanket wrapped close, the steady stream of yellow dancing in the leaves and making deep shadows on the ground. It's all so beautiful, although it does fade away eventually; tucked away to be dreamed of in the cold of winter until the first explosions of green blades poke through the earth. But distance makes the heart grow fonder, I suppose.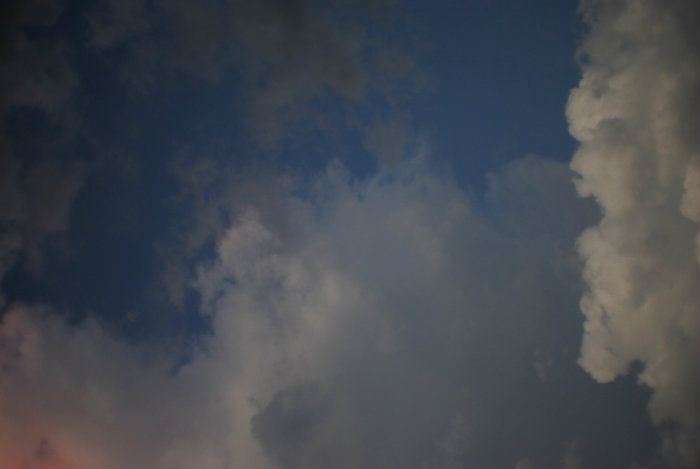 The summer is sort of fading out already for me- I've just done my first couple pages of Algebra and it nearly killed me to let this summer go. I have no idea why, but when I think about these last few weeks, it just makes me want to laugh; to hold onto this summer's hands tighter than ever before. I get to laugh at some stupid things I've done, and get to curl my fingers tighter into those special memories that shan't be forgotten. It makes me want to hold on closer to all of this (especially as I see all my siblings grow so tall and my childhood slipping past right under my nose), but then, it makes me want to leap forward and catch those stars everyone has told me to go catching.


A couple nights ago, I was sharing a bed with Morgan (hey, we're traveling!) and she was closing her eyes. I whacked her with the pillow and started giggling. She started giggling-sort-of-snorting-laughing-kind-of-giggling and whacked me back. Before long, we were both on our knees hitting each other with pillows and screaming in whispers. I asked her if we had to go to sleep right away and she said she was tired. "But we'll never be this young again!" I said, really meaning I'd never be this young again. To which she said, "There's tomorrow, Gabby." I didn't go to sleep for a while. I lay thinking about the next day. I'd never ever be as young as I was right then... but I was only a day older... right? Someone asked me if I was ready to grow up recently and I said I was excited about it. And all they could do was smile, roll their eyes, and remind me that it was only the other night while bouncing all over the queen sized mattress, and hitting someone with my pillow, that I was mourning because I'd never be this young again. Well, I won't. And I think it's a grand thing, however much I am going to miss dear old childhood.

This summer was incredibly special, full, and meaningful in a million and one different ways. And as it fades out like a sunset, I smile because I laughingly know that there's another sunset tomorrow. I close my eyes, ignore the gentle snoring of an eight year old sister, and let this summer fade out- even if it isn't all the way ended.
-Gabby